دانلود بازی Ticket to Earth Episode 3-PLAZA برای PC
ABOUT THIS GAME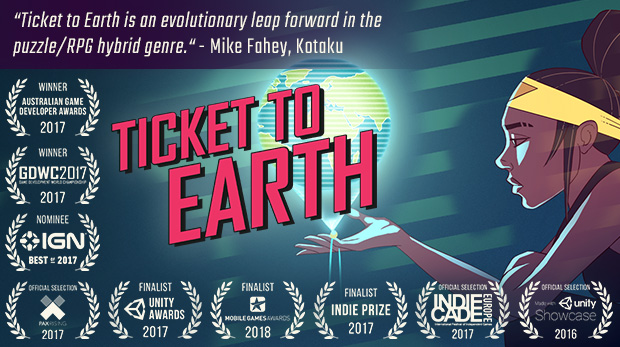 A distant planet. A dying colony. A deadly conspiracy.
Fight a corrupt system in Ticket to Earth, the revolutionary tactical puzzle RPG!

The mining boom has left New Providence to die and just one Earth-bound ship remains. Forced to fight to protect everything she loves, orphaned Rose stands between bloodthirsty marauders and a corrupt government.
The puzzle grid is your battlefield as you position your team, collect matching tiles, and power up devastating special abilities. You've never played anything like this!
Join the fight in Ticket to Earth, a sci-fi epic of betrayal and insurrection.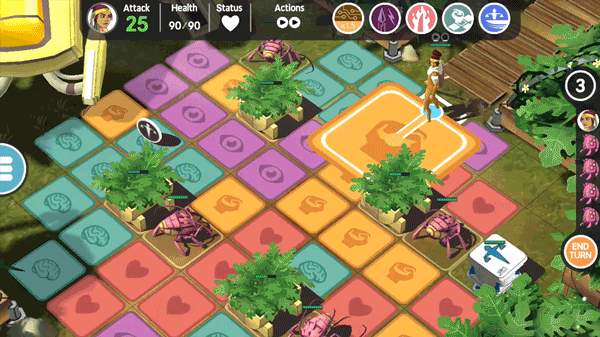 Unique gameplay mash-up – Revolutionary hybrid gameplay blends battlefield tactics, puzzle, and RPG to create an entirely new style of play.
Episodic science fiction epic – Get involved in the personal stories of four mismatched heroes as the fate of an entire world rests on their shoulders.
Fight for justice – Unlock hundreds of potent combat abilities and use them to defeat murderous criminals, rampaging robots, and grotesque mutants.
Join the movement – Be guided by the mysterious Stellar Consciousness Movement through a deep and satisfying RPG progression tree for each of your heroes.
Enhanced Steam edition – This original mobile hit has come to PC and Mac with greatly improved high-resolution visuals and a suite of other improvements.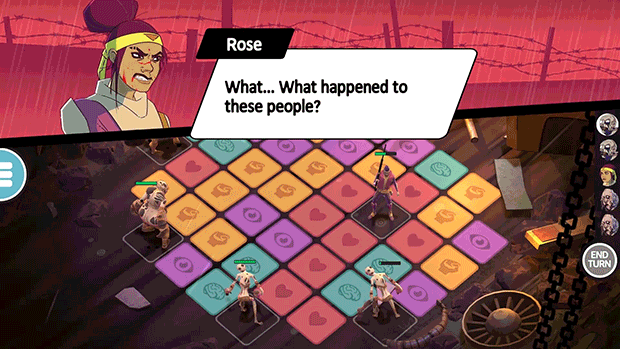 When the refinery failed, it wasn't just hundreds of miners who died. From that day on, the colony was dying too.
Colonists had travelled hundreds of light years for the promise of a better life, but with the mineral deposits all but depleted and refinery destroyed, the lifeblood of New Providence was slowly draining away.
A decade later, the wealthy few are now preparing to return to Earth on a gleaming luxury starliner, leading to mass protests by the many being left behind. The entire colony has become a powderkeg of resentment and desperation, and somebody is about to strike a match…

Orphaned gardener Rose, left without a family when the refinery failed, is forced to become a Peace Keeper to protect the people she loves from an inexplicable wave of violence. Drawing upon the almost-forgotten training of her childhood, Rose battles swarms of mutated alien bugs and out of control robots. Slowly, she realises that these are not random events, but are part of an unspeakably evil plan…

As Rose and her fellow Peace Keeper Wolf are pursuing the criminal masterminds of the Lands End massacre, their shuttle is shot down over the toxic wasteland left behind by the failure of the refinery. To their horror, they find instead that not everybody died in the disaster: some of the victims live on, altered and alien, no longer remotely human. Yet, even more dangerous things lurk in the ruins…

Hidden within the freezing ruins of the Rinehart Refinery, Zero's army of murderous criminals prepare to assault the colonial capital, First Landing. Racing against time, our three heroes must confront the ghosts of New Providence's past in order to stop the Zero Day coup. Joined by new allies, will one Peace Keepers make the ultimate sacrifice so that Justice may prevail?

The city streets of First Landing explode with violence in this apocalyptic finale to Ticket To Earth. Surrounded by enemies, our heroes must enter the very heart of the conspiracy in order to stop Zero's genocidal coup. Who lives? Who dies? Who will travel home to Earth? Episode 4 is coming in early 2019.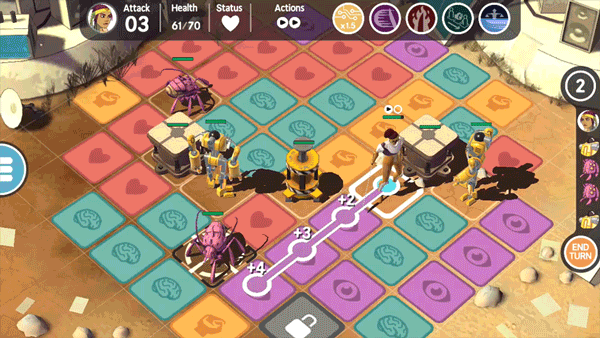 Robot Circus is an independent game studio in Melbourne, Australia. We started the studio in 2011 after working together for many years at a large game studio on console games. Starting Robot Circus allowed us the freedom to pursue our passion for creating innovative experiences and compelling narrative.
Ticket to Earth is the kind of game we formed our studio to make. We can't wait for you to play it, and are looking forward to revealing all the cool locations and story twists that are coming in the future Episodes.
================================
Overview
Title : Ticket to Earth
Genre : Indie, RPG, Strategy
Release Date : 28 Jun, 2017
Developer : Robot Circus
Publisher : Robot Circus
============================================
System Requirements
MINIMUM:
OS: Windows 7 or higher (32 or 64 bit)
Processor: 2.4ghz Intel Core 2 Duo or equivalent
Memory: 2 GB RAM
Graphics: Video card with 512MB of VRAM
Storage: 4 GB available space
Sound Card: DirectX compatible sound card
RECOMMENDED:
OS: Windows 7 or higher (64 bit)
Processor: 2.66GHz Intel Core i7
Memory: 4 GB RAM
Graphics: NVIDIA GeForce 9000 series / ATI Radeon HD 3000 series or greater
Storage: 6 GB available space
Sound Card: DirectX compatible sound card
========================================
Trailer
===============================
دانلود بازی Ticket to Earth Episode 3-PLAZA برای PC
 Size :~1.46GB
All Parts Are Interchangeable
All Files Contain 6% Recovery Record
Password if Ever Needed: www.game4pc.ir
=====================================
Ticket to Earth Episode 3-PLAZA
NOTES: This release is standalone and includes Episodes 1-3.
=========================